Sunny days have become sunnier at Sesame Street with a new kid on the block, a vivacious girl with bright red hair and large, expressive green eyes. Meet Julia. And she happens to have autism. Announced October 2015, Julia made her debut on the beloved children's show Monday, April 10, as part of Autism Awareness Month. In a video to introduce the character, Julia's friend Abby Cadabby explains, "lots of kids have autism." And "that means their brains just work a little differently," she continues.  As the Amazing Song proclaims, this effort by Sesame Street is to promote not just autism awareness, but autism acceptance and appreciation.
(CBS News made the announcement on Sunday, April 2; the following day, Julia was introduced in Congress.  Incidentally, Power Rangers introduced Billy, a blue character with autism.)
A Basis on Research and Experience
Noteworthy is that the people who create and enact the show themselves have experience with autism. Frank Campagna, the writer of the respected blog "Autism Daddy" is one of the video producers at Children's Television Workshop. In his blog, he discusses how, after the birth of his severely autistic son, he sought to bring awareness and acceptance of the condition on the show.  And bringing Julia to life is puppeteer Stacey Gordon, an advocate and a parent of a boy with autism.
A researcher at Virginia Tech, herself a mom of a boy with autism, praises the way Julia doesn't just talk about autism, but shows her young audience how autism is another way of thinking and being, providing the tools for them to interact with their autistic peers.
Resources for Parents
"Sesame Street and Autism" offers a variety of resources for parents, including the following: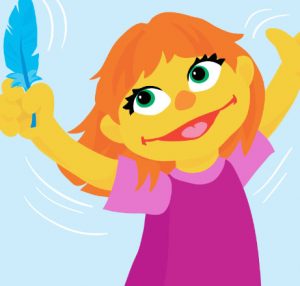 Sunny Day
Sweepin' the clouds away
On my way to where the air is sweet
Can you tell me how to get,
How to get to Sesame Street
Come and play
Everything's A-OK
Friendly neighbors there
That's where we meet….